Presentation of research activities
At TALM, research builds on an educational team composed of artists, designers, architects, conservator-restorers and theoreticians including one accredited to direct research (HDR), fourteen PhDs and three PhD students. They often work in collaboration with researchers from outside the school. These multi-faceted teams are associated with research programmes or laboratories. Symposiums, seminars and study days present research to graduate students. In 2017, TALM created a research centre to meet the needs of its organisation on multiple sites, research volume and intent. This structure provides an organised overview of research activity allowing researchers to work both independently and collaborate. The TALM Research Centre is organised around four major activities that mutually influence and inspire collaborative work:
post-graduate training: post-graduate degrees in Art by Translation and in Épistémologie et Méthodologies de la Recherche en Art et en Design (Epistemology and Research Methodologies in Art and Design);
TALM research - research unit and research programmes;
TALM experimentation;
leading teacher-artists to PhD studies.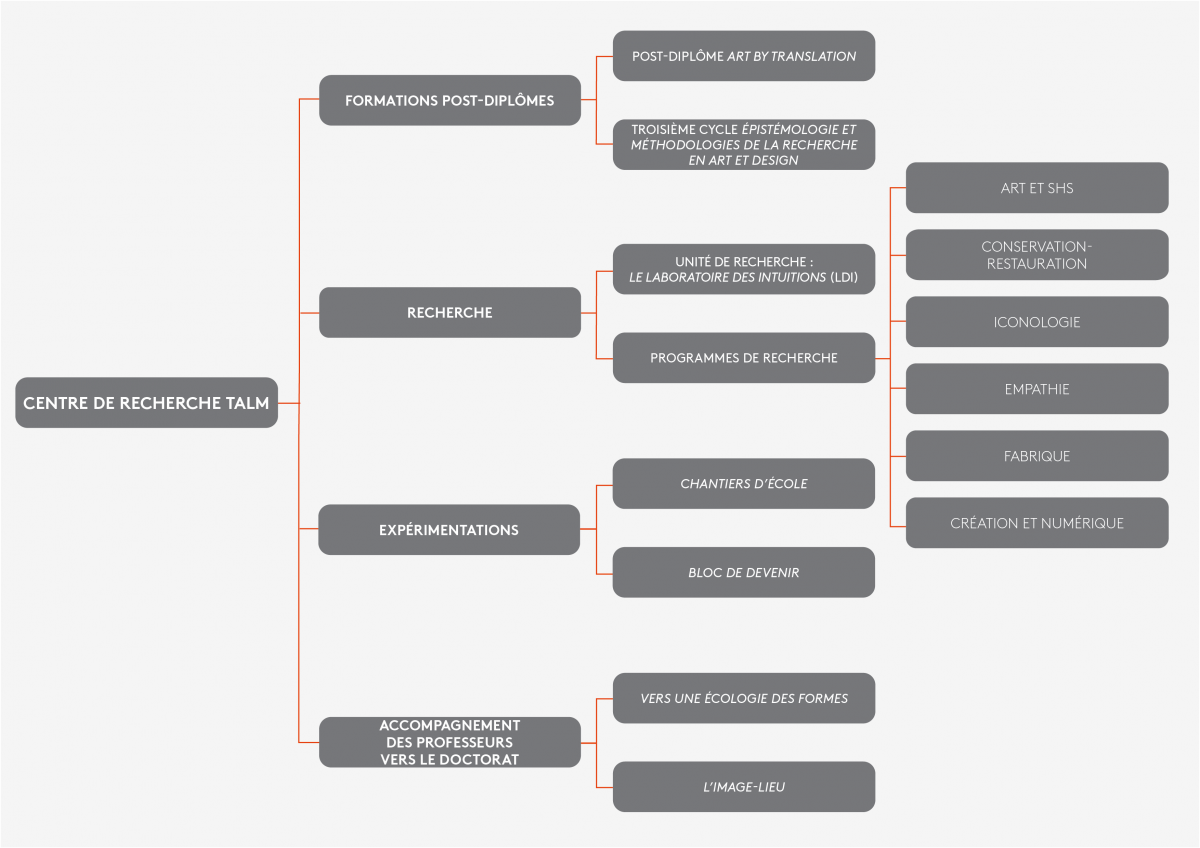 Cette structuration en centre de recherche a permis la pérennisation de certains programmes, l'organisation par champ de ces programmes et un important travail d'enrichissement par la recherche des enseignements des années 4 et 5. L'établissement, qui s'est largement impliquée dans les enjeux de la recherche en explorant ses frontières (LDI, thématiques de recherche Création et Numérique, Art et SHS, Image ou encore recherche en conservation-restauration, etc.) s'est attachée ces dernières années à distinguer ce qui relève de la recherche, de l'adossement à la recherche et de la pédagogie ou du projet, afin de se caractériser à l'échelle nationale dans ce domaine sans s'obliger à séparer systémati-quement ce qui relèverait de la recherche en art de la recherche en design.